Syringe Pump Market Size Set to Touch USD 33.37 billion by 2029
Rising incidence of chronic diseases, increasing advancements in syringe pump technology, and growing trend towards home-based healthcare services are projected to propel the expansion of the global syringe pump market during the forecast period between 2023 and 2029.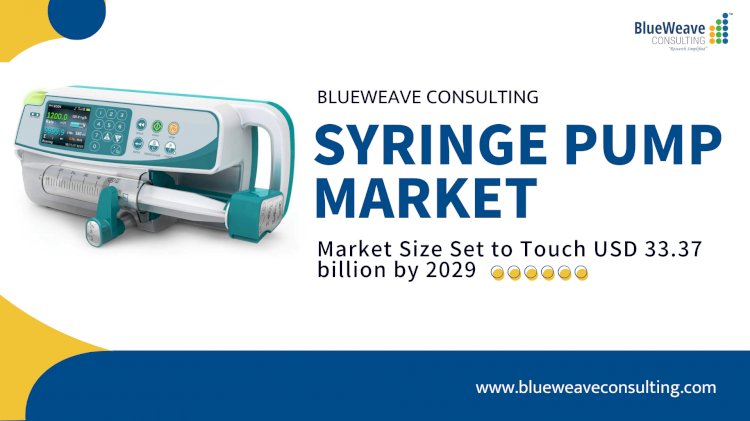 Syringe Pump Market
BlueWeave Consulting, a leading strategic consulting and market research firm, in its recent study, estimated global syringe pump market size at USD 21.89 billion in 2022. During the forecast period between 2023 and 2029, BlueWeave expects global syringe pump market size to grow at a significant CAGR of 6.3% reaching a value of USD 33.37 billion by 2029. Major growth drivers for the global syringe pump market include an increasing prevalence of chronic diseases, the growing geriatric population, technological advancements in syringe pump devices, and the rising demand for accurate and safe drug delivery systems. According to the Global Cancer Observatory, there were approximately 19,292,789 newly diagnosed cancer cases in 2020. Among individuals of various genders and age groups, the total number of fatalities attributed to cancer was estimated to be around 9,958,133. Notably, breast cancer, lung cancer, colorectal cancer, prostate cancer, and stomach cancer were the prevailing types of cancer during that year. It is expected that these statistics will experience significant growth in the coming years, thereby driving the advancement of the syringe pump market. Also, the expansion in the volume of surgical procedures conducted is expected to facilitate the development of the worldwide syringe pump market. The rise in investments and the introduction of novel products by prominent market participants are projected to generate profitable prospects for market growth during the forecast period. However, stringent regulatory requirements and high cost of syringe pumps are anticipated to restrain the global syringe pump market.
Global Syringe Pump Market – Overview
The global syringe pump market refers to the collective market for medical devices that are designed to deliver precise and controlled amounts of fluids or medications to patients. Syringe pumps are commonly used in healthcare settings, including hospitals, clinics, and ambulatory care centers, to administer various therapies, such as intravenous infusions, pain management, anesthesia, neonatal care, and chemotherapy. These devices provide accurate and controlled delivery of medications, ensuring patient safety and therapeutic efficacy. The market encompasses a range of syringe pump types, including traditional syringe pumps used in clinical settings and ambulatory syringe pumps designed for portable use. With advancements in technology, syringe pumps now often incorporate features such as wireless connectivity and integration with electronic health record (EHR) systems to enhance functionality and streamline patient care. The global syringe pump market is driven by factors such as the increasing prevalence of chronic diseases, the growing aging population, demand for safe and accurate drug delivery systems, and technological advancements in syringe pump devices.
Sample Request @ https://www.blueweaveconsulting.com/report/syringe-pump-market/report-sample
Impact of COVID-19 on Global Syringe Pump Market
COVID-19 pandemic had a dual impact on the global syringe pump market. There was a surge in demand for syringe pumps due to the increased need for accurate medication delivery in critical care settings. The pandemic highlighted the importance of syringe pumps in delivering medications, including vaccines and critical care drugs. Also, syringe pumps and ventilators hold significant importance as essential devices used in intensive care units (ICUs), cardiac care units (CCUs), and emergency rooms. In COVID wards, intravenous (IV) infusion is a common requirement. Infusion pumps play a vital role in monitoring and delivering precise drug doses in hospitals and emergency rooms, enabling healthcare professionals to treat patients while minimizing the risk of infection, as they can be programmed to operate without constant observation. Consequently, the demand for infusion pumps experienced a sharp surge in 2020. Hospitals confronted with the novel coronavirus faced shortages of ventilators, personal protective equipment, and infusion pumps, all of which were crucial for managing the increasing number of COVID-19 patients.
Competitive Landscape
Major players operating in the global syringe pump market include BD, Baxter International Inc., Medtronic plc, Fresenius Kabi AG, Terumo Corporation, Smith's Medical, Moog Inc., B. Braun Melsungen AG, Hospira, Inc., Nipro Corporation, Mindray Medical International Limited, Roche Diagnostics, Zyno Medical, KD Scientific, and NIKKISO CO., LTD. To further enhance their market share, these companies employ various strategies, including mergers and acquisitions, partnerships, joint ventures, license agreements, and new product launches.
Don't miss the business opportunity in the Global Syringe Pump Market. Consult our analysts to gain crucial insights and facilitate your business growth.
The in-depth analysis of the report provides information about growth potential, upcoming trends, and statistics of Global Syringe Pump Market. It also highlights the factors driving forecasts of total market size. The report promises to provide recent technology trends in Global Syringe Pump Market and industry insights to help decision-makers make sound strategic decisions. Furthermore, the report also analyzes the growth drivers, challenges, and competitive dynamics of the market.
Contact Us:
BlueWeave Research Blog
Phone No: +1 866 658 6826
Email: info@blueweaveconsulting.com