Oligonucleotide Synthesis Market Size is projected to grow at a CAGR of 11.6% by 2029
Oligonucleotide synthesis market size is flourishing owing to rising R&D expenditures and government investments in pharmaceutical and biotechnology research, falling sequencing costs, and rising public and private spending on genomics.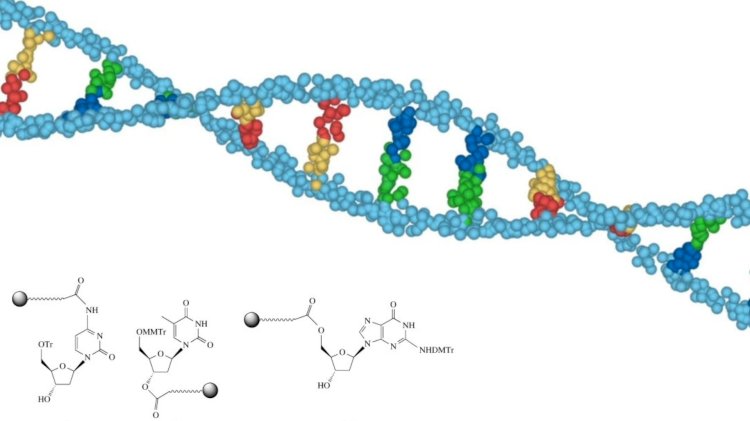 Oligonucleotide Synthesis Market
BlueWeave Consulting, a leading strategic consulting and market research firm, in its recent study, estimates global oligonucleotide synthesis market size at USD 5.99 billion in 2022. During the forecast period between 2023 and 2029, BlueWeave expects global oligonucleotide synthesis market size to grow at a significant CAGR of 11.6% reaching a value of USD 12.94 billion by 2029. As cost of sequencing has decreased, the demand for custom-made nucleotides for the desired sequence has increased in research, genetic testing, drug development, and forensic applications. Also, oligonucleotide synthesis is becoming increasingly popular in a variety of life science industries. Many ongoing genetic research studies rely heavily on oligonucleotide synthesis. Increasing funding for genetic research will spur the demand for a custom synthesis of various classes of oligos, such as decoys, aptamers, immunostimulatory, antisense, siRNA, and miRNA. Several major and emerging oligonucleotide producers are collaborating with pharmaceutical companies to expand their operations. However, there have been numerous instances in the past where many drugs have been withdrawn or have failed in clinical trial phases due to high complexity factors, such as severe side effects. Such occurrences might become frequent and might limit the market expansion.
Global Oligonucleotide Synthesis Market – Overview
To produce the desired sequenced products, short nucleic acid fragments are chemically joined together in a procedure known as oligonucleotide synthesis. According to their needs and the application, researchers can change it. It is used as a primer and probe in recombinant DNA technologies to produce monoclonal antibodies. In addition, it is employed in biological, medical, forensic, and clinical applications for gene expression, cloning, molecular diagnostics, and screening for genetic diseases. Due to the development of automated reactor platforms, which make oligonucleotides accessible at reasonable prices, it is growing in popularity in the therapeutic use of several medications.
Several ongoing genetic research studies include oligonucleotide synthesis. Rising investments in genetic research are expected to increase demand for a custom synthesis of various oligo classes such as decoys, aptamers, immunostimulatory, antisense, siRNA, and miRNA. Several major and emerging oligonucleotide manufacturers are growing their businesses by partnering with pharmaceutical companies. For example, CordenPharma International signed a strategic collaboration agreement with GE Healthcare Dharmacon Inc. in June 2017 to develop an end-to-end oligonucleotide-based drug discovery solution. Many oligos are in late-stage clinical trials for diseases such as cancer, cardiovascular disease, muscle dystrophies, and ocular disorders. The anticipated regulatory approval for multiple oligonucleotide-based therapies will drive the market. Direct selling and selling through distributors in specific countries are two marketing approaches used in this market. The market is expected to benefit from the ongoing growth of the genomics and gene editing markets, as advances in genetic tools simplify oligonucleotide synthesis.
Request for Sample Report @ https://www.blueweaveconsulting.com/report/oligonucleotide-synthesis-market/report-sample
Opportunities: Declining sequencing costs to boost oligonucleotide synthesis
The price of genome sequencing has significantly decreased in recent years because of advancements in genomics research. DNA sequencing is now much faster and less expensive thanks to NGS technology. The price of sequencing a human genome decreased significantly from $5 million in 2008 to $1,000 in 2017, according to the National Human Genome Research Institute (NHGRI). Sequencing is increasingly being used in genomics research to understand the diversity of reproductive medicine, oncology, and infectious diseases as well as to assemble genomes and investigate the genetic basis of human diseases. As a result, the rapidly declining cost of sequencing is expected to increase research activity, fueling demand for oligonucleotide synthesis products and technologies during the forecast period.
Challenge: In-house oligonucleotide development may limit the market growth
Latest trends suggest that in-house oligonucleotide development affects service providers' sales. This internal development is primarily the responsibility of academic and research institutions. Biopharmaceutical companies have started to develop oligonucleotides themselves or have contracted with other organizations to maintain privacy and streamline manufacturing. However, it is impossible to monitor limited requirements and financial constraints, which tend to limit the market's potential. The global market may also encounter growth limitations because of a lack of resources. It is anticipated that research funding for academic labs will be constrained, which could impede market revenue growth in the global oligonucleotide synthesis market. Furthermore, some regions have a small number of market participants and a labor shortage. These factors may obstruct the expansion of research activities.
Impact of COVID-19 on Global Oligonucleotide Synthesis Market
The infectious disease is caused by the newest novel coronavirus, COVID-19. COVID-19 was largely unknown before the outbreak's start in Wuhan (China) in December 2019. It became a worldwide pandemic. Many large pharmaceutical and biopharmaceutical companies have stepped forward to support global research initiatives by providing oligo products for developing test kits, medications, and vaccines that target the novel Coronavirus infection. They have partnered with market participants in the oligonucleotide synthesis market. For instance, in April 2021, Microsynth AG (Switzerland) gave crucial tools, such as primer-probe sets, to PCR testing labs to help molecular diagnostic businesses create and validate precise, innovative detection methods. Microsynth AG also gave thorough genomics expertise to research labs researching coronaviruses.
Global Oligonucleotide Synthesis Market – By Application
The global oligonucleotide synthesis market is segmented according to application into three categories: research (PCR, qPCR/RTqPCR, sequencing, gene synthesis, and other research applications), therapeutics (DNA/antisense oligonucleotide-based therapies, RNAi oligonucleotide-based therapies, immunotherapy (CpG oligonucleotide-based therapies), and diagnostics. The research sector is anticipated to dominate the market for oligonucleotide synthesis. However, the use of oligonucleotides for diagnostic applications is anticipated to grow at the fastest CAGR during the forecast period due to the expanding applications of molecular diagnostics (MDx) and genetic testing. PCR primers are frequently used for target screening and identification in drug development. Due to the existence of a robust pipeline of oligonucleotide-based therapeutics, including antisense therapeutics, DNA vaccines, and anti-viral agents, in various stages of clinical development, PCR primers currently hold the largest revenue share in the oligonucleotide synthesis market.
Competitive Landscape
Global oligonucleotide synthesis market is fiercely competitive. Prominent players in global oligonucleotide synthesis market include Thermo Fisher Scientific, Merck KGaA, GE Healthcare, Horizon Discovery Ltd., Agilent Technologies, Kaneka Eurogentec S.A., Integrated DNA Technologies, Inc., LGC Biosearch Technologies, Eurofins Genomics, General Electric, Genscript, Danaher, TriLink BioTechnologies, Biolytic Lab Performance Inc., PolyGen GmbH, Quintara Biosciences, Twist Bioscience, GENERI BIOTECH, Ionis Pharmaceuticals, and Maravai LifeSciences. These companies use various strategies, including increasing investments in their R&D activities, mergers, and acquisitions, joint ventures, collaborations, licensing agreements, and new product and service releases to further strengthen their position in global oligonucleotide synthesis market.
Don't miss the business opportunity in the Global Oligonucleotide Synthesis Market. Consult our analysts to gain crucial insights and facilitate your business growth.
The in-depth analysis of the report provides information about growth potential, upcoming trends, and statistics of global oligonucleotide synthesis market. It also highlights the factors driving forecasts of total market size. The report promises to provide recent technology trends in global oligonucleotide synthesis market and industry insights to help decision-makers make sound strategic decisions. Furthermore, the report also analyzes the growth drivers, challenges, and competitive dynamics of the market.
Contact Us:
BlueWeave Research Blog
Phone No: +1 866 658 6826
Email: info@blueweaveconsulting.com