Building Integrated Photovoltaics Market Size Zooming More Than 3X to Touch USD 44.45 Billion by 2029
building integrated photovoltaics market is flourishing because of the growing inclination towards power generation from renewable energy sources, rising consumer awareness toward several ecological benefits of BIPV.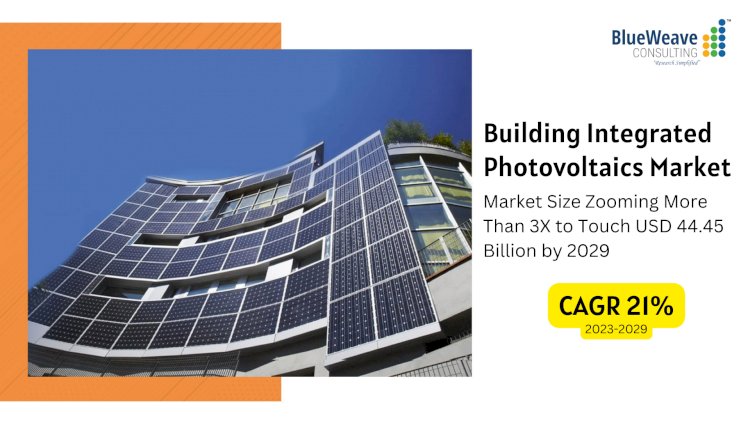 Building Integrated Photovoltaics (BIPV) Market
BlueWeave Consulting, a leading strategic consulting and market research firm, in its recent study, estimated the global building integrated photovoltaics (BIPV) market size at USD 14.06 billion in 2022. During the forecast period between 2023 and 2029, BlueWeave expects global building integrated photovoltaics (BIPV) market size to grow at a significant CAGR of 21% reaching a value of USD 44.45 billion by 2029. Major growth drivers for the global building integrated photovoltaics market include an increasing adoption of renewable energy sources, a growing focus on sustainable construction practices, supportive government incentives and regulations, rapid technological advancements in BIPV, and rising demand for green buildings. The market is further propelled by a strong emphasis on energy efficiency and sustainable development, with expectations of continued growth in the forecast period. Global awareness and adoption of solar power have been driven by countries prioritizing energy security and self-sufficiency. Supportive government legislations and commitments to reduce greenhouse gas emissions further fuel market growth. Key countries driving the transition to solar energy include Germany, Italy, France, the United Kingdom, the United States, China, Japan, and India. With these favorable conditions, the solar panel market is poised for significant expansion in the upcoming years. However, high initial costs of investments and complexity of building integrated photovoltaics (BIPV) installations are anticipated to restrain the overall market growth during the period in analysis.
Global Building Integrated Photovoltaics Market – Overview
The global building integrated photovoltaics (BIPV) market refers to the integration of photovoltaic materials into building elements, such as windows, facades, and roofs, to generate electricity while simultaneously serving their functional purposes. BIPV technology enables the seamless incorporation of solar panels into the building's design, allowing for the production of renewable energy on-site. This innovative approach combines the benefits of solar power generation with the aesthetics and functionality of building materials. BIPV systems can contribute to energy efficiency, reduce reliance on traditional power sources, and lower carbon emissions. The global BIPV market encompasses various technologies, materials, and applications aimed at integrating solar power generation into the built environment to meet the increasing demand for sustainable and energy-efficient buildings.
Sample Request @ https://www.blueweaveconsulting.com/report/building-integrated-photovoltaics-market/report-sample
Impact of COVID-19 on Global Building Integrated Photovoltaics Market
COVID-19 pandemic had a mixed impact on the global building integrated photovoltaics (BIPV) market. The pandemic caused disruptions in supply chains, project delays, and reduced construction activities, which affected the BIPV market. Economic uncertainties and financial constraints also affected investment decisions and slowed down the adoption of BIPV solutions. On the other hand, the pandemic heightened awareness about the importance of sustainable and resilient buildings, leading to an increased focus on green energy solutions like BIPV. Government stimulus packages and recovery plans emphasizing renewable energy and green building initiatives are expected to drive the market's recovery and growth in the post-pandemic period.
Global Building Integrated Photovoltaics Market – By Technology
Based on technology, the global building integrated photovoltaics (BIPV) market is bifurcated into Crystalline Silicon and Thin Film segments. The crystalline silicon technology segment held a higher market share in 2022. Smart mounting systems allow for the seamless integration of crystalline silicon cells into building roofs, preserving the roof's integrity. This integration method offers high efficiency and does not require significant investments. Another approach involves replacing traditional roof tiles with crystalline silicon cells, providing an alternative means of integration. Additionally, the market is witnessing the utilization of anti-reflective coatings, enhancing solar energy capture and overall efficiency. Crystalline silicon currently boasts the highest energy conversion efficiency, with commercial modules typically converting 13% to 21% of incident sunlight into electricity. This makes it a highly desirable choice for building-integrated photovoltaics (BIPV). The continuous advancements in crystalline silicon technology are driving efficiency improvements and expanding the potential applications of BIPV systems.
Competitive Landscape
Major players operating in the global building integrated photovoltaics (BIPV) market include AGC Solar, Belectric, Heliatek GmBH, Canadian Solar Inc., Ertex Solartechnik Gmbh, Tesla Inc., Solaria Corporation, Carmanah Technologies Corporation, Greatcell Solar Limited, Hanergy Holding Group Limited, Onyx Solar Group LLC, NanoPV Solar Inc., Polysolar Ltd, and ViaSolis. To further enhance their market share, these companies employ various strategies, including mergers and acquisitions, partnerships, joint ventures, license agreements, and new product launches.
Don't miss the business opportunity in the Global Building Integrated Photovoltaics Market. Consult our analysts to gain crucial insights and facilitate your business growth.
The in-depth analysis of the report provides information about growth potential, upcoming trends, and statistics of Global Building Integrated Photovoltaics Market. It also highlights the factors driving forecasts of total market size. The report promises to provide recent technology trends in the Global Building Integrated Photovoltaics Market and industry insights to help decision-makers make sound strategic decisions. Furthermore, the report also analyzes the growth drivers, challenges, and competitive dynamics of the market.
Contact Us:
BlueWeave Research Blog
Phone No: +1 866 658 6826
Email: info@blueweaveconsulting.com